Cultural museums have always been very interesting to me because they often tell stories and histories of groups that lack appropriate recognition. I appreciate these museums because they help shape a fuller picture of society. One of these museums that I look forward to visiting someday soon is the African American Museum of Philadelphia. It's a museum that is committed to showing a full and ongoing picture of African American life through all its transformations and cataloging all the wonderful contributions to America Black people from across the African Diaspora have made during various Civil Rights Movements and in the a number of fields such as entertainment, sports, art, medicine, technology, architecture, politics, and more. The museums is composed of four galleries and an auditorium. They tie the exhibitions to the African Diaspora, the Philadelphia Story or the Contemporary Narrative. They do a wonderful job of uplifting contemporary voices, especially artists, and engaging their local community. Unfortunately they don't have their exhibits available through virtual tours, but they have a vast database and archive that you can search from their website. Their biggest contribution to the collections was over 500,000 negatives from Jack T. Franklin, a social movement photojournalist  working in Philadelphia post WW2.  This vast collection of photographs captures specifically Philadelphia's role in larger American Civil Rights movement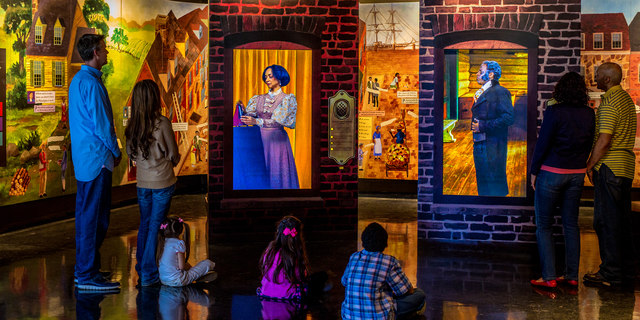 Their missions statement is quite brief and is as follows:
The African American Museum in Philadelphia brings diverse communities together in greater appreciation of the Black experience through the combined narrative of art, culture and historical witness.
While short, this statement lays out the important role the museum has in a larger community appreciation of Black accomplishments. I specifically want to emphasis the idea of historical witness, Like I said before, cultural museums help to highlight voices that have been overlooked or dismissed. For this museum, being able to show proof and the reality of the Black experience, helps to dispel falsehoods and misconceptions about African Americans in general.
The museum also has a Vision Statement, "The African American Museum will be an integral asset of the Philadelphia cultural landscape that makes a meaningful impact on visitors' lives as they experience the stories of people of African descent through art, history and culture" which simply builds upon the mission statement and really specifies the museums role specifically in the city of Philadelphia.
While there are countless Women, BIPOC, LGBTQIA+, ect, cultural museums across America, including other African American History museums in a number of major cities, the thing that sets the Philadelphia museum apart, is its creation. The African American Museum of Philadelphia  was founded in 1976 and was  the first institution funded and built by a major municipality to preserve, interpret and exhibit the heritage of African American and is governed by a large board of directors. Sadly, with changing priorities in the city's budget, the museum has seen large cuts in it's public funding.
Q: I really appreciate this museum's commitment to a diverse staff that reflects the demographics of the city it exists in. How important do you feel it is to have that reflective diversity, especially on Boards of Directors, and is that something that you've payed attention to, noticed, or cared about? I myself find that concept incredibly important in cultural museums for leadership roles, specifically because of social studies about how people tent to hire those that look like themselves because it is perceived and more comforting. In my last Museum Studies class, I read about a Cultural museum I believe was somewhere in Texas, that had a declining visitor-ship, and decided to restructure the museum around the community and realized the community was largely people from areas in and around China, Japan and Korea. They added more people who reflected that to the Board of Directors and throughout the museum staff and devoted a large portion of the Museum to telling stories and histories of Asian people and within something like 2-5 years, attendance to the museum went up 400% and there was an enormous uptick in community based donations to the museum.